Malak Malak Rangers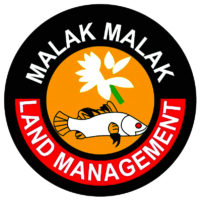 Malak Malak is the name of an Aboriginal language group from the Daly River catchment in the Northern Territory. The group largely resides in and near the Nauiyu Nambiyu community, and has traditional river country around the middle reach of the Daly River. Malak Malak lands are bordered by the lands of the Kungarakany (north), Wagiman (south-east), Ngen'giwumirri (south), Marramaninjsji (southwest), and Maranunggu, Kewema and Tjerratj (west) language groups. Malak Malak country is looked after by the Malak Malak Land Management Rangers.

The Ranger group comprises approximately 8 members. It is supported by funds from the Caring for Country Unit of the Northern Land Council.

The Malak Malak Land Management Rangers are heavily involved in the management of their lands. The men invest substantial time and effort on physical weed controls; particularly the spraying of Mimosa pigra from quad bikes, four wheel drive spray units, and from helicopters when conditions are favourable. The women rangers have, for a number of years, been trialling and undertaking biological control methods; using a beetle to assist the control of Salvinia in billabongs and breeding and releasing a Mimosa-eating moth. The women rangers developed and implemented this monitoring program.