NAFI Fire Ground Truthing Application
The North Australian Fire Information (NAFI) service and NAILSMA have partnered to develop the I-Tracker NAFI Fire Ground Truthing Application. This application enables rangers to record data about burnt and unburnt sites that can then be provided to NAFI to improve the accuracy of their overall mapping. This helps to generate more detailed, fine-scale mapping in local areas.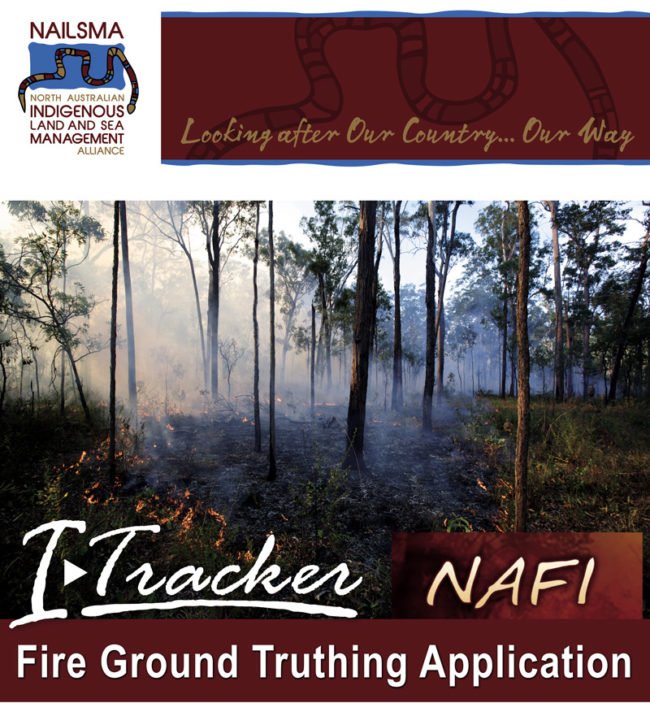 I-Tracker Fire Ground Truthing Application opening screen
The NAFI website is the leading source of fire data and information for north Australian land managers. Indigenous land managers routinely use NAFI information to help plan their controlled burns, to monitor burnt and unburnt areas, and as a base layer to view the fire data they collect in the field with I-Tracker applications. Visit www.firenorth.org.au to find out more.
NAFI data is mostly derived from satellite imagery, using an automated process to detect fires. These data are vector polygons derived from an image with a resolution of 250m per pixel. Data is crosschecked and validated through a process called ground truthing, where data collected on-ground are compared to the satellite imagery results.
Indigenous land managers play a significant role in implementing fire management and collecting fire data across vast areas of north Australia. They therefore have strong potential to assist NAFI to verify its satellite imagery through recording and submitting fire scar data.
Download the I-Tracker NAFI Fire Ground Truthing Application