Marine turtle monitoring
I-Tracker has been supporting Indigenous ranger groups to collect and manage information about sea turtles since 2009. I-Tracker applications created using world-renowned CyberTracker software (www.cybertracker.org).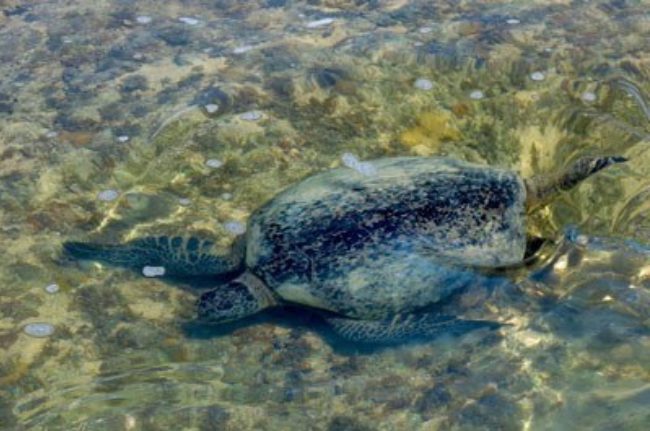 This includes data collection on: opportunistic sightings of turtles at sea; presence/absence data on turtles seen at sea; detailed information on turtles that are 'in-hand' on a nesting beach or from doing a rodeo, including recording measurements, tag numbers and taking a photo; recording turtle nests and tracks; and dedicated boat-based turtle and dugong survey that can be used to generate local density and abundance estimates.
These applications are loaded onto field-tough touch-screen personal digital assistants (PDAs) that are rugged and waterproof and include an in-built GPS, camera and voice recorder so that all field data is linked. In addition, applications include highly visual help tools to assist with identification and methods that are instantly accessible in the field (see below for an example):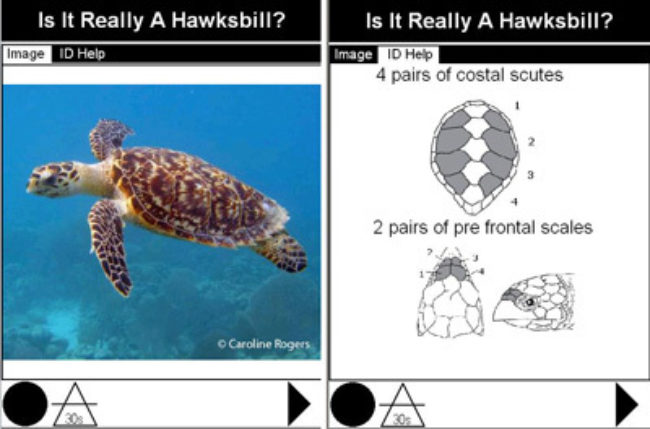 The marine turtle monitoring help screen
Additional information is captured on the PDA including associated GPS location, which rangers were present and the effort for the day. All data is uploaded to a dedicated computer at the end of fieldwork. Data is automatically stored in a CyberTracker database which includes access to free mapping software.
Dedicated Boat-Based Surveys
NAILSMA has been working in partnership with Indigenous ranger groups and CSIRO to develop a boat-based survey method for monitoring local turtle populations.
The survey involves one observer stationed on each side of the boat and a recorder using the PDA loaded with an I-Tracker application to record all sightings of turtles and dugongs called out by the observers. The boat travels slowly at ~5-6 knots along transects approximately 1.0 -2.5km long. Environmental conditions are recorded at the beginning and end of each transect. The following map is an example of transects around Mary Island near Kalumburu, WA, along which turtles are counted.
Whenever possible, turtles are recorded individually and a GPS point is taken after each sighting. The following additional information is recorded for each turtle sighting:
distance from the boat (this is recorded as a choice of three "bands" - see image below for an example of an I-Tracker help screen showing how to record a turtle in an appropriate distance band);
species; and
size and behaviour.
Help screens that can be accessed at the time of sighting on the PDA are located throughout the application. Here is an example of a Help Screen.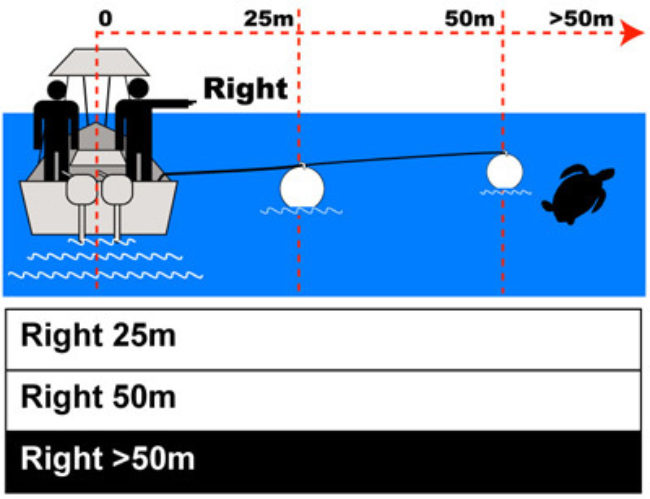 The marine turtle monitoring help screen