Certificate III in Indigenous Land Management
Certificate III Indigenous Land Management
The Certificate III in Indigenous Land Management (ILM) has been trialled for delivery in the NT as part of NAILSMA's Higher Education Participation and Partnerships Program (HEPPP) Whole of Community Engagement (WCE) initiative. The ILM trial has developed a culturally appropriate framework for delivering nationally accredited Certificate III units that recognise Indigenous Traditional Knowledge in a western education framework. The trial engaged over 70 people across two communities, Maningrida and Yirrkala, targeting Indigenous land and sea managers including Indigenous Rangers, Senior Elders, Traditional Owners, and other community members to be involved in the refinement, delivery and resource development of five Nationally Accredited Certificate III ILM units.
Indigenous Land Management Traditional Knowledge Units
The Certificate III in Indigenous Land Management has six units that specifically recognise Indigenous Knowledge in a nationally accredited western framework. These units can not only be delivered as part of an Indigenous Land Management Certificate, but also as part of the Conservation Land Management Certification and as elective units for a range of other VET certificates.
The Certificate III Indigenous Land Management traditional knowledge units include:
| | |
| --- | --- |
| Unit Code | Unit Title |
| AHCILM302 | Provide appropriate information on cultural knowledge |
| AHCILM305 | Work with an Aboriginal Community or organisation |
| AHCILM306 | Follow Aboriginal cultural protocols |
| AHCILM308 | Identify traditional customs and land rights for an Indigenous Community |
| SITTGDE001 | Interpret aspects of local Australian Indigenous culture |
Students undertaking a VET pathway
The ILM will benefit school students undertaking both a VET pathway or an academic pathway. These Certificate III units will enable remote Indigenous students to be engaged in cultural knowledge learning under a recognised western education system. A VETiS pilot project will be the second stage in trialling these units as a valid and integral part of Indigenous students learning pathway. This trial will again focus on community Elders co-facilitating the delivery of accredited ILM units to VETiS or Learning on Country students in their local schools. This pilot project will support community co-facilitators to deliver traditional knowledge units to school students on country as part of an accredited learning pathway.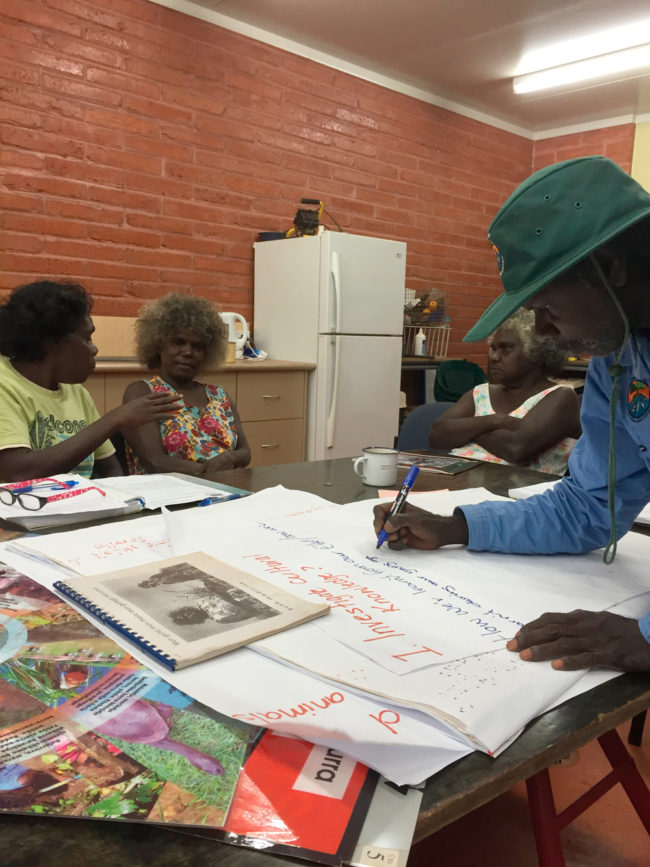 Community Elders and Maningrida College staff participating in an ILM workshop
The involvement of community Elders in co-facilitating and co-assessing these units is in line with the how these units must be delivered. Below is the directive found in each of the Traditional Knowledge units within the ILM:
 Assessment of this unit must be conducted by recognised and appropriate Community Elders and/or Custodians with appropriate assessor qualifications or co-assessed by a qualified assessor in cooperation and discussion with an appropriate Community Elders and/or Custodians.
This directive provides a strong and clear statement that the appropriate community Elders must assess or co-assess the delivery of these units. This also provides insurance that appropriate community members must remain the trainers and assessors of these units, identifying the content and methods of delivery well into the future. Therefore, the ongoing delivery of these units post pilot project will have a level of protection to ensure that they remain driven by community elders.
ILM Training Framework
The development of ILM Framework was to support the learning and delivery methods identified during each of the workshops. The Framework identifies the details of the processes that were followed during the pilot project. All workshops supported participants to refine, deliver, and assess nationally accredited units. This involved participants breaking down each of the unit elements, translating each one into their preferred language and subsequently developing a culturally appropriate learning framework that focuses on delivering nationally accredited training in first language and supporting Indigenous leaders to be trainers and training co-facilitators. The framework identifies the employment and engagement of senior local people as consultants and co-assessors to assist in the delivery of units, particularly those containing Indigenous cultural and ecological knowledge. Communities involved in the original pilot project now have a number of community Elders and senior people that are trained in delivering these units to school students.
The table below is a brief outlook on what the steps involved in the ILM training Framework.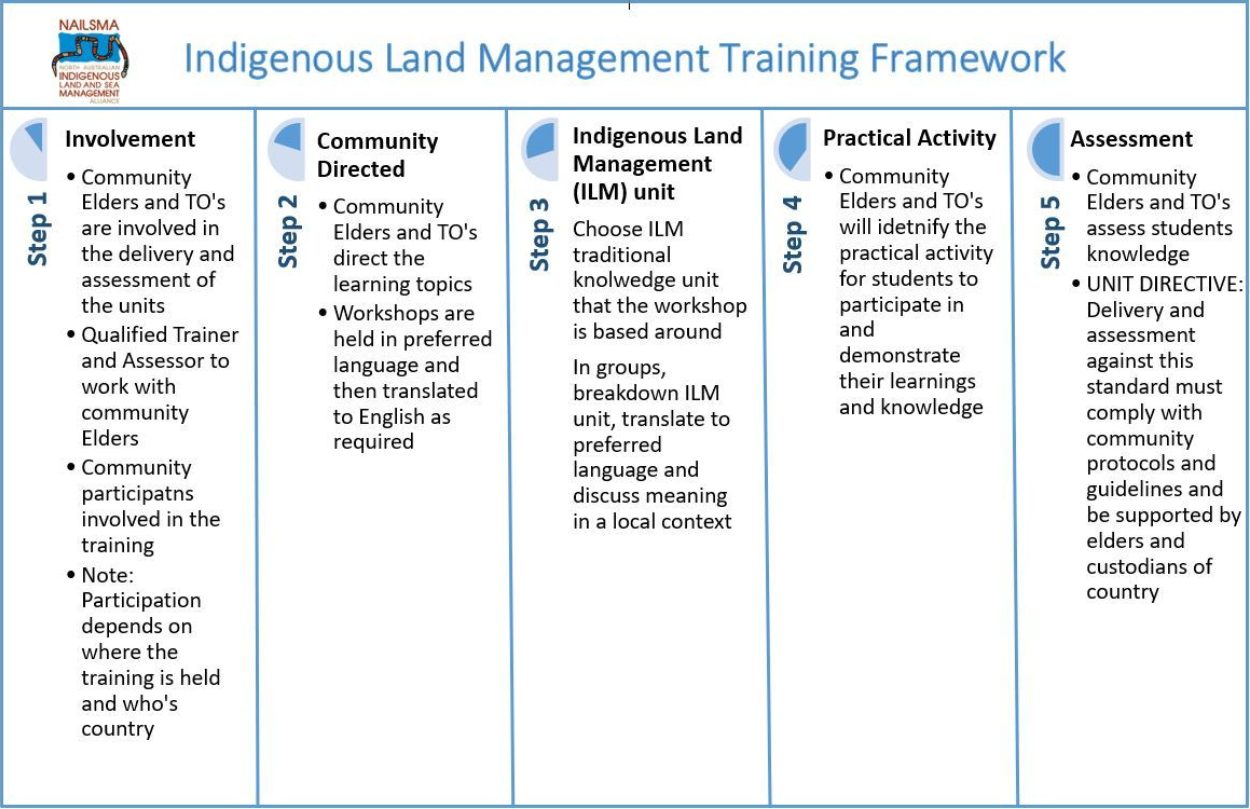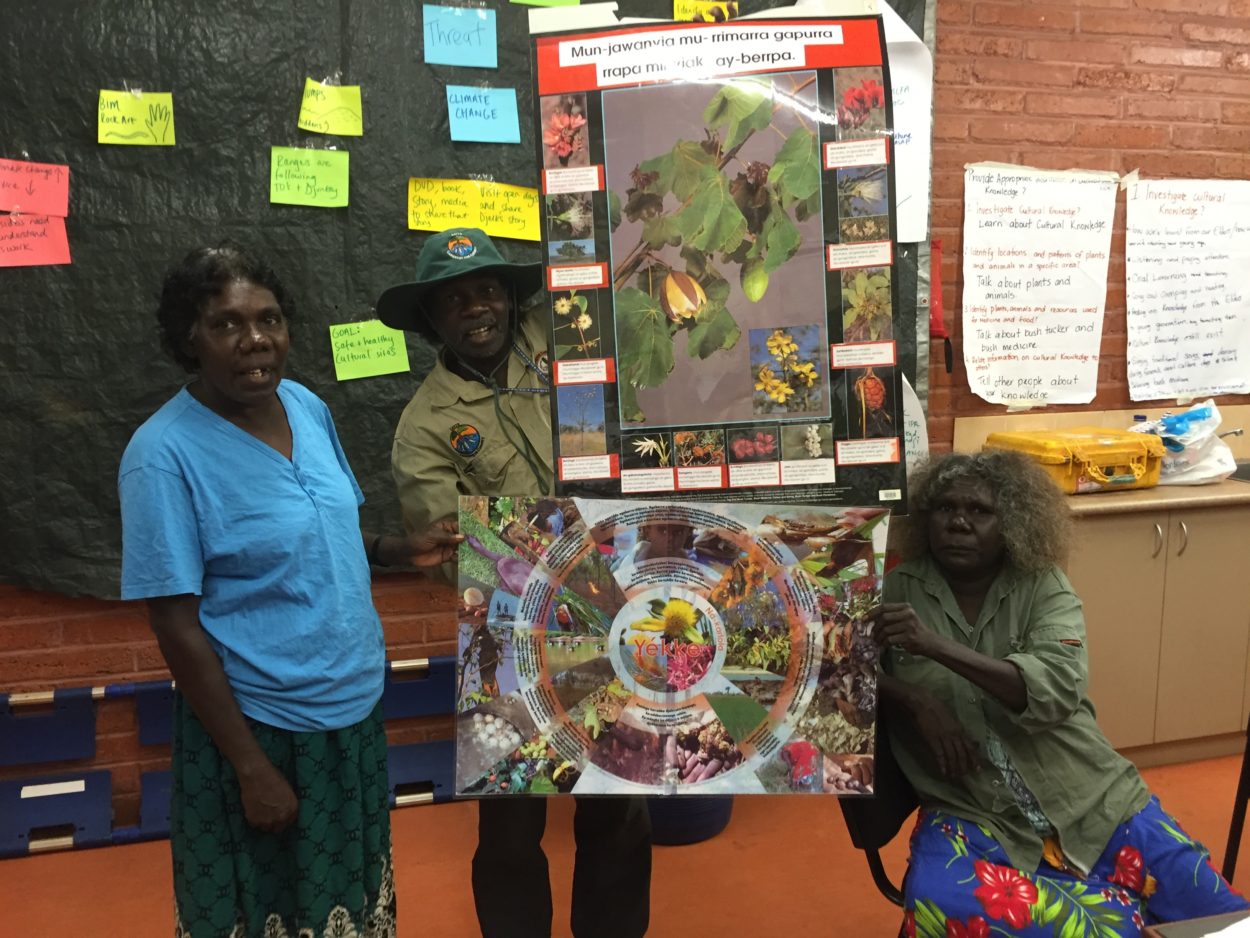 Certificate III Indigenous Land Management Training with Cindy, Stanley and Leila from Maningrida.
For more information please contact Erica McCreedy, erica.mccreedy@nailsma.org.au