Developing culturally appropriate qualifications for Indigenous land and sea managers
Posted 2017-05-02
The North Australian Indigenous Land and Sea Management Alliance Ltd (NAILSMA) recently hosted the third in a series of training workshops to trial the nationally accredited Certificate III in Indigenous Land Management (ILM). The overall trial aims to develop culturally appropriate qualifications for land and sea managers that give recognition to Traditional Ecological Knowledge in a western framework. The trial involves senior community members driving the content of the course and working with accredited trainers and the wider community.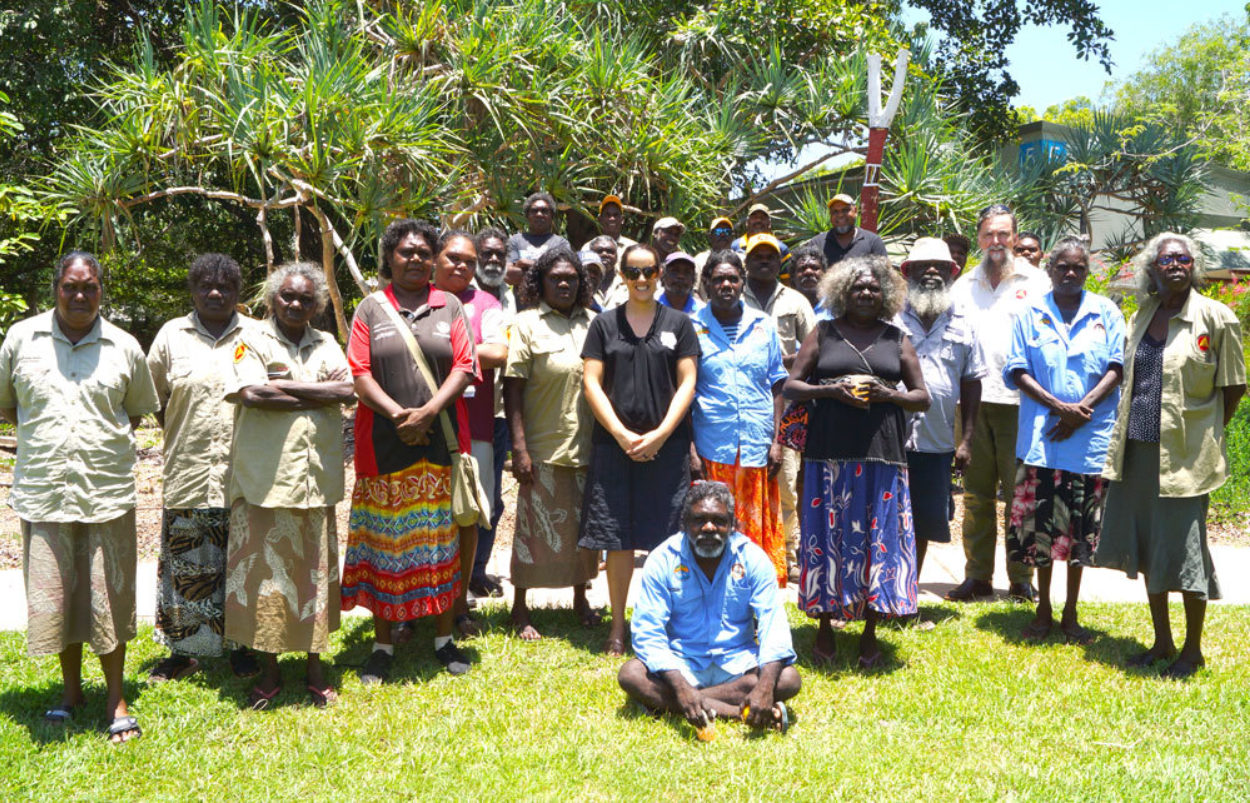 Workshop participants at NAILSMA's Indigenous Land Management Certificate III Workshop held at CDU, Darwin March 2016
The three day Darwin workshop was attended by Maningrida community members, Djelk Rangers, Maningrida College staff and the Yirralka Rangers. Representatives from CDU School of Indigenous Knowledge and Public Policy, Darwin Education Training Solutions, an NT Department of Education Linguistand representatives from the Elliott community who joined the workshop on the first day.
The workshop began with a half-day presentation by Michael O'Donnell, Principal Lawyer from Northern Land Council, explaining legislation relevant to Indigenous people and managing country - in particular the Native Title Act and the NT Aboriginal Land Rights Act. This presentation aimed to provide an understanding of complex laws and legal terminology to non-legal people.
Following the NLC presentation the workshop provided further opportunity for the 21 Senior Rangers, Cultural Advisors, Teachers, Teachers Assistants and other Community members who came together to focus on one of the ILM units - AHCILM301A Propose appropriate uses of traditional customs. This unit enables participants to discuss, understand and breakdown how western law intersects with traditional Indigenous law systems and what effect this has on the lives of Indigenous people and how they manage country.
Participants worked through the unit by breaking down the unit elements and translating these into their first language. From this a culturally appropriate learning framework will be developed that focuses on delivering nationally accredited training in first language and supports Indigenous leaders as trainers and assessors.
Maningrida and Yirrkala communities have participated in two other workshops that have developed resources for two ILM Certificate III units using the same workshop methods. A number of education resources are being scoped and developed as a result of the workshops, including a short video of thepresentation on land rights and other laws, brochures in first language and information about training pathways for people interested in pursuing law as a career.
This workshop is part of NAILSMA's projects under the Higher Education Participation and Partnerships Program (HEPPP) Whole of Community Engagement (WCE) initiative. NAILSMA has been engaged by Charles Darwin University as part of the Australian Government HEPPP-WCE to work with six NT communities to identify opportunities for remote Indigenous students and adult learners to participate in higher education specifically related to land and sea management.