NAILSMA delivers I-Tracker training with Adjumarllarl Rangers in Gunbalanya March 2016.
Posted 2016-03-30
The Adjumarllarl Rangers from Gunbalanya in West Arnhem Land have been operating for over 30 years and cover an area of approximately 10,000 sq km. They have a number of small fee for service contracts but are struggling to find recurrent funding to sustain their ranger program post June 2015. They have identified a need to up-skill their rangers and position themselves to be more capable of taking on future contracts.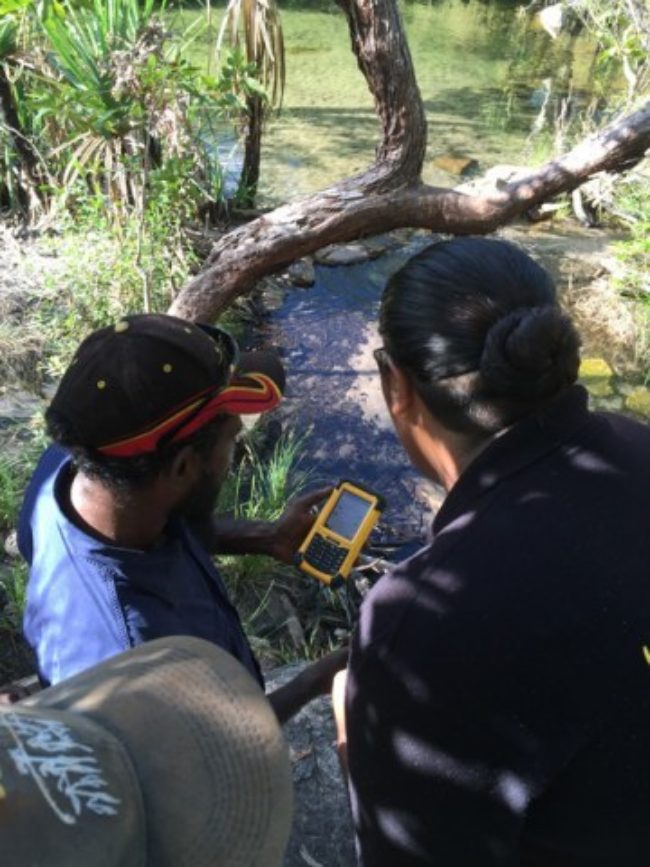 Adjumarllarl Rangers learning how to collect water data using I-Tracker mobile device.
The rangers identified an interest in accessing training relevant to
current work plans and funding commitments. I-Tracker training which
includes digital data collection, reporting and mapping, was identified
as a critical skill set for rangers to receive training in. I-Tracker is
a program that helps Indigenous Land and Sea Managers work together to
collect and manage information across north Australia. The data they
collect helps the community make decisions about managing their
traditional land.
During the training the rangers recorded data while working on country, including weed spraying, road clearing and feral animal management. NAILSM
A Junior Project Officer, Brianna Shaw, currently completing a Certificate IV in Training and Assessment, lead the training and once back in the ranger office showed the rangers how to transfer the data from the mobile devices onto the computer. Brianna then demonstrated how to check the data and produce a map recording where the rangers have been spraying, clearing the road and checking feral animal damage. As a group, everyone took turns in developing a map to represent different aspect of the work the rangers had done. 
This training is part of NAILSMA's projects under the Higher Education Participation and Partnerships Program (HEPPP) Whole of Community Engagement (WCE) initiative. NAILSMA has been engaged by Charles Darwin University as part of the Australian Government HEPPP-WCE to work with six NT communities to identify opportunities for remote Indigenous students and adult learners to participate in higher education specifically related to land and sea management.