Yirralka Rangers pilot the Certificate III in Indigenous Land Management 2015
Posted 2015-09-01
The Yirralka Rangers are involved in progressing a new training methodology, whereby community members are involved in the refinement, delivery, and assessment of nationally accredited units that recognise Indigenous traditional and cultural knowledge systems.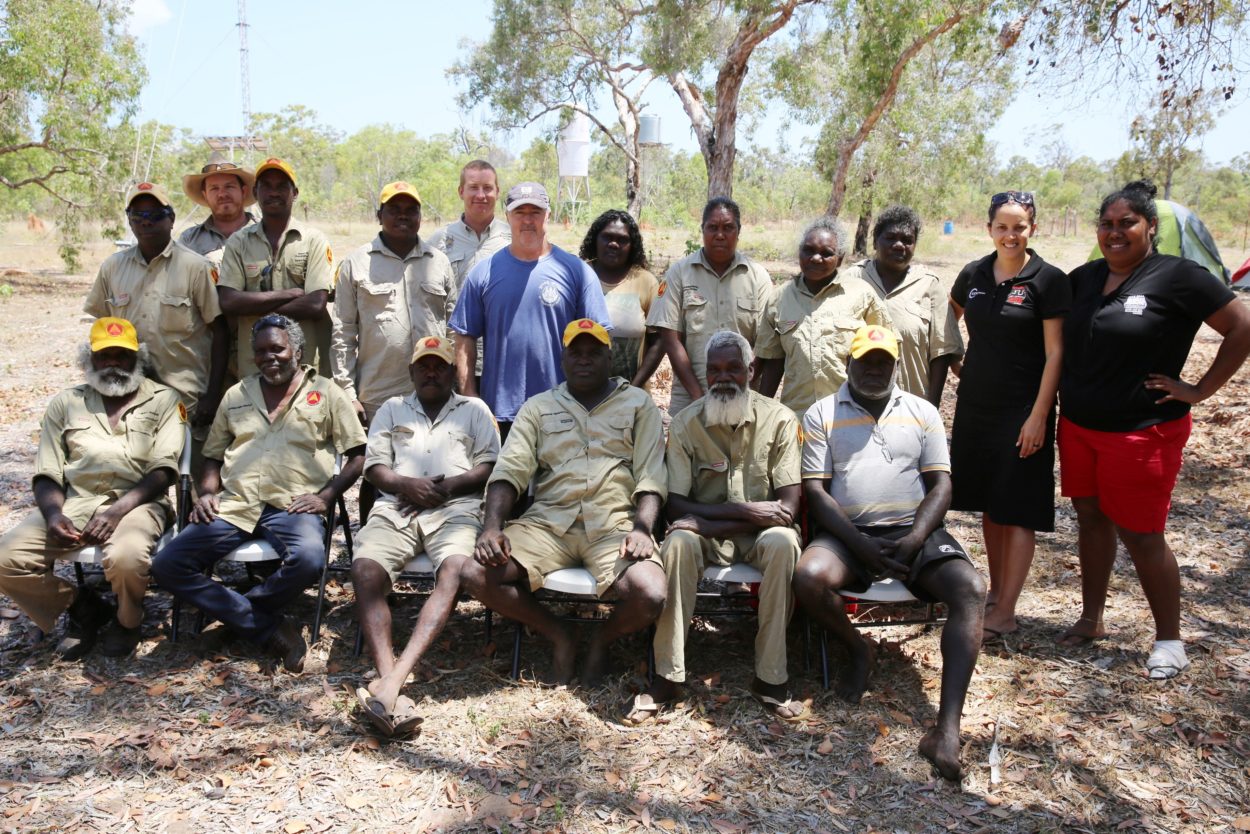 Yirralka Rangers, Darwin Education and Training Solutions staff and NAILSMA staff at the Djarrakpi trial of the Certificate III in Indigenous Land Management.
NAILSMA recently partnered with Darwin Education and Training Solutions (DETS)
to deliver a 3 day training workshop to trial the Nationally Accredited Certificate III in Indigenous Land Management (ILM) with Yirralka Rangers and senior community members in Djarrakpi, North East Arnhem Land.
The workshop involved 14 Senior Rangers and Cultural Advisors who were tasked with contextualising the ILM unit, AHCILM302A 'Provide appropriate information on cultural knowledge'.
This involved participants breaking down the unit elements, translating each one into Yolngu Matha and subsequently developing a culturally appropriate learning framework that focuses on delivering nationally  accredited training in first language and supporting Yolngu leaders as  trainers and training co-facilitators to Yolngu students.
The ILM is not currently available in the NT, and while there are other relevant VET courses for Indigenous land and sea management, such as Conservation Land Management certifications, to teach and certify necessary operational skills, there is little to no recognition for Indigenous knowledge held by senior community members and rangers that is relevant to their work and their cultural responsibilities for looking after country.
The workshop was also focused on identifying and strengthening leadership qualities within senior rangers and cultural advisors to enhance their capabilities as trainers, leaders and mentors to other rangers and students. Training portfolios are being developed with each of the participants to identify each person's individual training and education aspirations and ensure that the project supports these pathways.
This is the second site to trial the Certificate III in ILM, with Maningrida community members also participating in the trial, as part of NAILSMA's Higher Education Participation and Partnerships Projects (HEPPP) Whole of Community Engagement (WCE). NAILSMA has been engaged by Charles Darwin University as part of the Australian Government HEPPP-WCE initiative to work with six communities to discuss and identify opportunities for remote Indigenous students and adult learners to participate in higher education specifically related to land and fresh water management.